Regular price
Sale price
£5.99
Unit price
per
Sale
Sorry, currently out of stock

25p from each Bath Culture House product sold on our website and at markets will be donated to

 

Bowel Cancer UK

 

via

 

Work for Good.
See our workshop page for details of days where you can meet our Founder, Lucie, and learn how to make a traditional Korean kimchi!
Classic Kimchi 350g
An aromatic, lively, raw & natural kimchi, traditionally chopped, with no fish sauce. Mild to medium in heat. Authentic recipe based on the traditional Korean style. 
✓ Raw & Unpasteurised
✓ No Added Sugar
✓ Handmade In Small Batches
✓ Plastic-Free Packaging
✓ Vegan & Gluten-Free

Ingredients: Chinese Leaf Cabbage, Carrots, Onions, Seaweed (Dulse, Sea Greens & Nori), Garlic, Ginger, Gochugaru Chilli Flakes (Korean Red Pepper) & Sea Salt.

This product was a 1-Star Great Taste award-winner in 2020 & 2022, and a Gold Taste of the West winner in 2023.
Share
View full details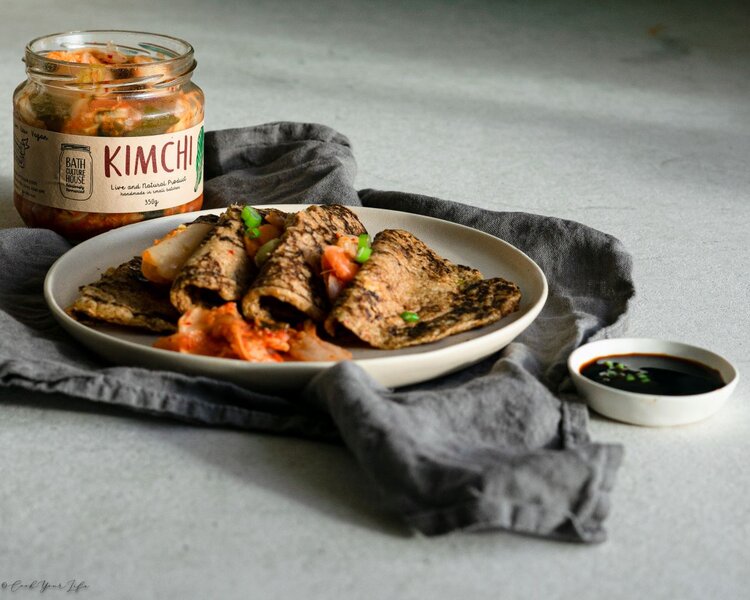 In Love
Love this kimchi! Amazing flavour and really packs a punch! Will be a repeat customer for sure!
Kimchi to write home about.
Kimchi to write home about.
The Best kimchi
I have tried many kimchi and this wins hands down!
Classic Kimchi
I love this company. You can somehow feel how much love and attention goes in to every stage of the process. Kimchi and Seaweed sauerkraut are so good. Great delivery too.
Frequently asked product questions:
What will be the best-before date of my kimchi?

We guarantee 3-months shelf-life, as long as you keep the kimchi refrigerated! :) i.e. if today is the 28th February you'll receive a jar with a best-before date of eat least the 1st June.
How long after opening the jar do I have to eat the whole jar?

We recommend eating up your kimchi within 28-days of opening your jar. However if you pracitce good hygiene (not eating from the jar, always using clean utensils, keeping the kimchi refrigerated below 5 degrees, and keeping the lid on securely) you should be able to enjoy your kimchi for over a longer time-period than this.
Do I need to store your kimchi in my fridge?

Yes. We always recommend storing your kimchi in the fridge; this ensures the live bacteria doesn't get up and party too much!
How spicy is your kimchi?

Our classic kimchi is, what we would call 5/10, a reasonably mild kimchi. Our brussels sprout, kale and broccoli kimchi are slightly hotter. If you don't particularly like spice, we'd recommend you go for our sauerkraut instead!
How much kimchi should I eat per day?

We'd always say it depends on various factors including what your dietary goals are and the state of your immune system, but generally we'd recommend eating 2 tablespoons per day.
What would you suggest I eat kimchi with?

We love our kimchi with crackers, fried rice, noodles or on the side of light lunch plates - i.e. in a wrap or sandwich, or with soup and bread. If you eat eggs and dairy, we'd suggest you try our kimchi with cheese toasties, shakshukah or a fried eggs on toast - we get a lot of people tell us at markets about their brunch/breakfast joys!