Natural, Raw, Unpasteurised, Small-Batch & Award-Winning Kimchi, Sauerkraut, Kombucha and Beet Kvass
We make a delicious range of fabulously fermented kimchi, sauerkraut, kombucha and beet kvass - all freshly fermented and jarred in our kitchen in the Mendip Hills, North Somerset, 30 minutes from Bristol.
All our products are naturally fermented for a period of 2-3 weeks, so there's no need for any added sugar, vinegar, or anything else! As natured intended.
Our kitchen is totally vegan and free from gluten and other allergens.
New Products!
3 brand new kimchi products, teeming with beneficial bacteria and totally delicious! Have you tried them yet?
Regular price

Sale price

£5.79

Unit price

per

Regular price

Sale price

£5.25

Unit price

per

Regular price

Sale price

£5.99

Unit price

per
Small-batch handmade in the Mendips
Our small team create, hand-chop, hand-pack & hand-label all our products.
We do it for you, your taste buds, and your gut.
Local? Pop by our unit between 11am-4pm on Fridays, we're open for sales!
We're proud to be rated 5/5 by our local council, Bath and North East Somerset, meaning we adhere to 'very good' food hygiene standards in our kitchen. We wouldn't expect you to accept anything less!
Let customers speak for us
Our Taste of the West awards: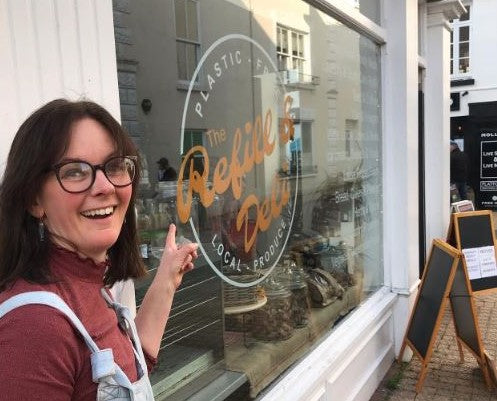 Our Stockists
We love working with lots of deli's, health shops and refill shops in the South West & further afield, like the Refill & Deli in Teignmouth (pictured here with Lucie). Click below to see where your local stockist is!
BCH Stockists
Bath Culture House has previously been featured in:
FAQ's
Are your products vegan?

Yes! We're a vegan company producing only vegan products.
Are all your products gluten-free?

All our products are made in a gluten-free kitchen.
Are all your products 'raw' and 'live'?

Yes, absolutely. This is where our products can really heal and help your gut and microbiome. We ferment our products before stroring them in our fridges, and dispatch to you in chilled packaging. All our shops should be storing our products in their fridges too. We do not pasteurise any of our products, so you can be sure that they contain all the beneficial bacteria your microbiome is craving.
What are the benefits of eating and drinking fermented products?

In short, here are some of the many benefits of incorporating fermented foods into your daily diet:
- They contain live probiotic bacteria and yeast, improving gut health.
- The process of fermentation breaks down food components and makes it easier for your gut to digest. This saves energy and releases more available nutrients.
- 95% of the body's serotonin is produced within our gut. Serotonin is a feel good / pleasure hormone,
- 70% of the cells which make up our immune system are found within the gut.
- Fermented foods can prevent the growth of disease-forming bacteria. Fermented foods contain lactic acid which are proven to destroy harmful bacteria.
- They also improve digestion and limit bloting.
- They're recommended to be taken daily when prescribed a course of antibiotics.
- They're known to reduce blood pressure.
- They strengthen the immune system.
- They're a superb source of antioxidants.
- They're known to lower inflammation.
- Fermented foods are also rich in minerals, vitamins (vitamin C and B's), enzymes, and they're also a good source of fibre.

It's no wonder fermented foods and the 'trend' of gut health are becoming increasingly popular. Read on here with the BBC's Michael Moseley...
What is kombucha?

Kombucha is a fermented, natural and living tea drink, brewed with a scoby (a symbiotic culture of bacteria and yeast). Kombucha is non-alcoholic and so is the perfect remedy for dry January or for those who choose not to drink alcohol. The health benefits of kombucha are varied and long-lasting, and are all associated with better gut health, which aids mental health, digestion and overall energy levels. Kombcha makes you happy!
What is kimchi?

Kimchi is a hand-chopped fermented vegetable dish, originating in Seoul, Korea and with huge popularily in Japan. You may have come across it in Wagamama in the UK. Although the vegetables are not cooked, they are soft but satisfyingly crunchy, and with a tangy, spicy edge that is very satisfying to eat. Kimchi is very good for you as it contains lots of live bacteria, which is essential for gut health. Kimchi is made using Chinese leaf cabbage, gochugaru (Korean red pepper) and many other ingredients. Our recipe is free from gluten, soy, and added oil or sugar. Kimchi is delicious added to fried rice, noodles or ramen, as well as toasties or crackers.
What is sauerkraut?

Sauerkraut means 'sour cabbage' and is a naturally fermented dish made of white cabbage and other natural ingredients. Cabbage is chopped, then salted and massaged, before being left over a number of weeks to ferment, allowing tangy flavours to develop from the live bacteria that multiplies. Is sauerkraut good for you? Absolutely! Eating sauerkraut can improve gut health by helping your microbiome to flourish. Our sauerkraut is raw and totally natural, and made of locally grown organic cabbages and British sea salt. Our saeurkraut recipe is very popular and we've received Great Taste awards for two of our products. Check out our sauerkraut rangehere.
What shelf-life do your products have?

Upon arrival to your home we guarantee at least 2+ months life before the best before date.
How should I store your products?

We suggest storing your ferments in the fridge (below 5 degrees celcius), effectively to stop them from fermenting any further. You can keep them out of the fridge for a while, but the fermentation process will continue and if they warm up too much, you may end up with a fizzy, overly fermented product. Whilst eating your veg ferments over a period of days or weeks, always re-seal the jar properly, pop back in the fridge, and only take more using properly clean cutlery. If you take care to do this your kimchi and kraut should last for months in the fridge, longer than the best before date.
Please do not keep your kombucha out of the fridge for any considerable length of time; they may ferment more than you'd expect and explode, and this can be dangerous since the jars are made from British glass.
Do you use any plastic?

Wherever possible we avoid using plastic. All our products are packed in glass, with an aluminium lid and plastic-free labels. We re-use cardboard boxes to make deliveries wherever possible. Please recycle our packaging when you have finished munching/sipping on your purchase! You will certainly be able to reuse the ice packs we enclose within your online packed order. Packages will be sent out to you with paper tape and FSC certified carboard boxes, with any 'filler' material being made from paper/cardboard.
How much is postage and packaging?

Please click here for delivery information, including prices and lead times (opens in new window).
What days can you deliver to me?

We send out orders on Mondays, Tuesdays and Wednesdays, and, if the forecast over the week is very cold, we send out on Thursdays as well. Unfortunately we can't deliver to you on weekends. Usually we'll dispatch your package within 2-4 working days of you ordering. Our delivery partners are DHL and APC.
Can I find your products in supermarkets?

No. Because we're a small business, with very small batch-runs (we're talking roughly 50 jars of kimchi at a time, or 25 cheases), we simply don't have the supply needed to work with any of the supermarkets, or high street chains like Holland & Barrett. We do however work with lots of independent shops and delis (see which ones here), and we're always looking for new ones to work with! If you have any suggestions, please do contact us.
What payment methods do you accept?

Most! We accept the majority of credit/debit cards, including AMEX. We also accept ShopPay, GooglePay and ApplePay, as well as bank deposits and cheques. Follow the instructions at the checkout, select the method you prefer, and we'll take it from there. Please note, if you prefer to pay via bank deposit or cheque, the process for receiving payment and dispatching your order is likely to take much longer than it would if you were paying with debit/credit card.
We do not accept Klarna payments, and we don't accept cash either.
Get social with us on Instagram!