Regular price
Sale price
£39.99
Unit price
per
Sale
Sorry, currently out of stock

25p from each Bath Culture House product sold on our website and at markets will be donated to

 

Bowel Cancer UK

 

via

 

Work for Good.


Raw Jasmine Kombucha (15 x 240ml)
Artisan hand-crafted fermented tea beverage. Fabulously fermented using symbiotic bacteria and yeast, brewed in jasmine flowers. Delicate, beautifully floral flavour. Sediment may form, this is natural since the product is live.
This product won a Gold Taste of the West award in 2023.
This product will be dispatched in ambient conditions, where the customer is asked to refrigerate upon arrival.
✓ Raw & Unpasteurised
✓ Low in Sugar
✓ Handmade In Small Batches
✓ Plastic-Free Packaging
✓ Vegan & Gluten-Free

Ingredients: Jasmine flower tea, organic raw cane sugar, in-house SCOBY cultures.
Share
View full details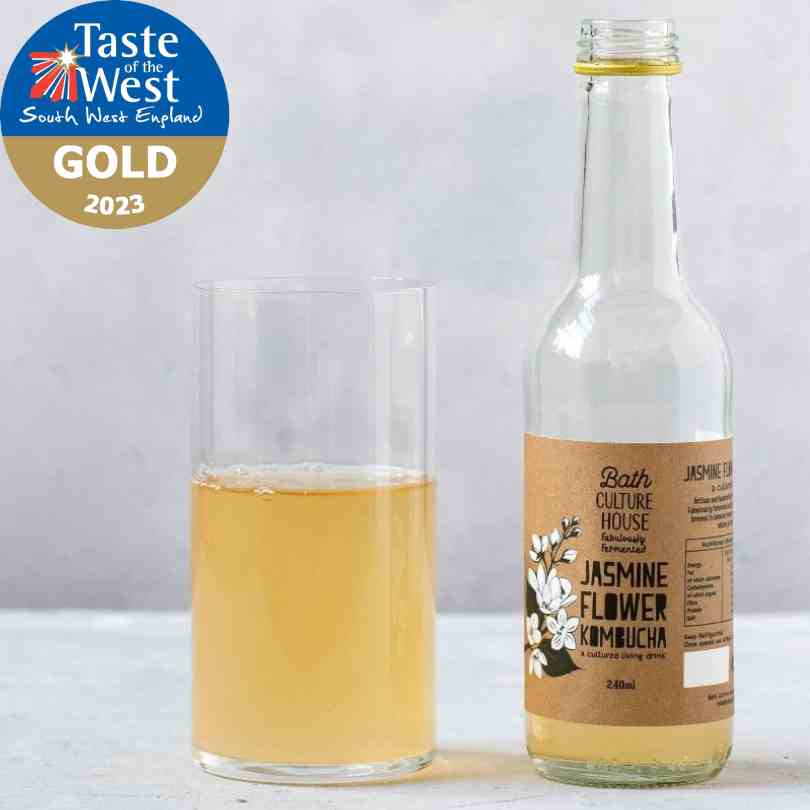 Best Kombucha I have tasted!
The bath culture kombuchas are beautiful - flavorful and kind to the stomach and all the flavors are different and gentle. I can really taste the turmeric on one of them and the jasmine one is sublime!
Frequently asked product questions:
What will be the best-before date of my kombucha on arrival?

We guarantee 3-months shelf-life, as long as you keep the kombucha refrigerated! :) i.e. if you receive your kombucha on the 28th February you'll receive a bottle with a best-before date of eat least the 1st June.
How long after opening the bottle do I have to drink it all?

We recommend drinking your kombucha within 5-days of opening the bottle.
Do I need to store your kombucha in my fridge?

Yes. Please do strore your kombucha in the fridge; this ensures the live bacteria doesn't get up and party too much! It's also a question of safety; our kombucha is powerful stuff and has been known to shatter if left at room temperature for too long.
How tangy is your kombucha?

We ferment our kombucha naturally over a number of weeks, so the flavour is fairly tangy and sour - there's plenty of flavour and 'bite'. Ours is a traditional brew which is NOT pasteurised or pressurised.
How much kombucha should I drink per day?

We'd always say it depends on various factors including what your dietary goals are and the state of your immune system, but generally we'd recommend drinking a small cup per day.