Regular price
Sale price
£39.99
Unit price
per
Sale
Sorry, currently out of stock

25p from each Bath Culture House product sold on our website and at markets will be donated to

 

Bowel Cancer UK

 

via

 

Work for Good.

Kombucha Mixed Case - 5 Varieties (15 x 240ml)
Artisan hand-crafted fermented tea beverage. Fabulously fermented using symbiotic bacteria and yeast. Sediment may form, this is natural since the product is live. Should be stored chilled. The ideal remedy for hangovers. Kombucha is good for you!
This product will be dispatched in ambient conditions, where the customer is asked to refrigerate upon arrival.
✓ Raw & Unpasteurised
✓ Low in Sugar
✓ Handmade In Small Batches
✓ Plastic-Free Packaging
✓ Vegan & Gluten-Free

This case contains:
3 x Turmeric & Ginger Kombucha
3 x Hibiscus Flower Kombucha
3 x Carrot Kombucha
3 x Jasmine Flower Kombucha
3 x Tart Cherry Kombucha
Ingredients:
Jasmine - Jasmine flower tea, organic raw cane sugar, in-house cultures.
Hibiscus - Hibiscus flower tea, organic raw cane sugar, in-house cultures.
Carrot - Jasmine flower tea, British carrot juice, organic raw cane sugar, in-house cultures.
Turmeric & Ginger - Jasmine flower tea, organic turmeric root, organic ginger root, organic raw cane sugar, in-house cultures.
Tart Cherry - Jasmine flower tea, tart cherry juice, organic raw cane sugar, in-house cultures.
Share
View full details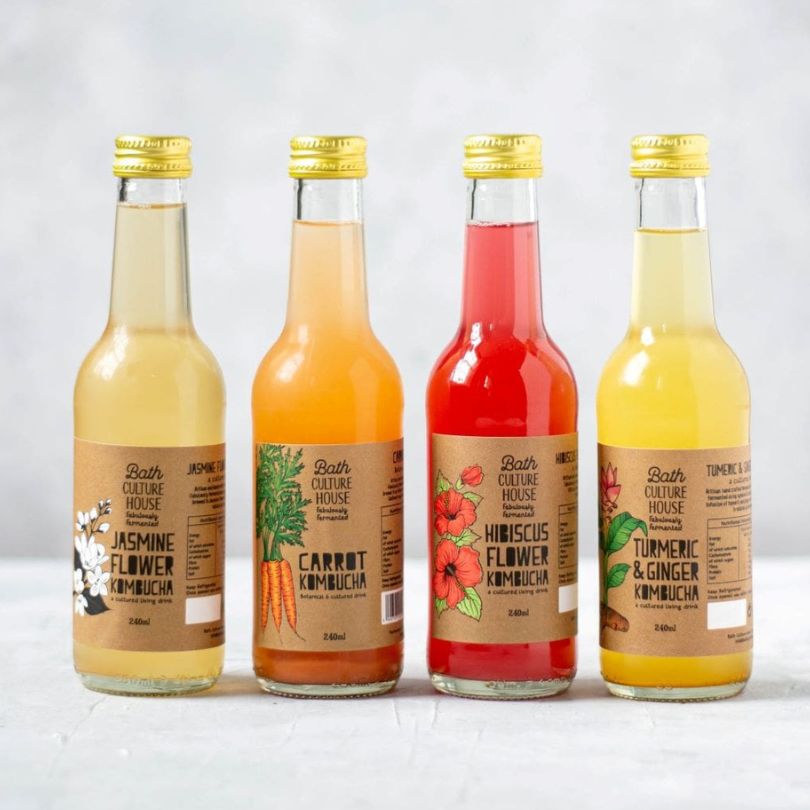 Great Kombucha
It was lovely to have a selection.
Great service
Thank you
Delicious!
I'm very pleased with my Kamboucha from Bath Culture House, it tastes delicious, is super healthy and I'm pretty sure I can taste the time and love that's gone into producing it. Far superior from anything else I've tried, including the stuff I've made! Many thanks.
Top quality, fair prices, good packaging and fast delivery. Many thanks
Always loved BCH Kombuchas
MY first introduction to Kombucha was at Lucie's stall the the Sturminster Newton Cheese Festival ( a lovely show), after tasting all sorts of amazing things a bit bloated and needed a refresh, Hibiscus and wow what a zing... bloatedness went v quickly, so a comfy rest of show and ride home ( above an hour). On a long day I will mix with mineral water and sip - to keep hydrated, sometimes a good slug for breakfast with some Kefir and also toast. I try not to drink more than 1/2-3/4 bottle per dy - as my gut biome - seems content with this. However, with a foraged tipple, a good slug of Kombucha and some tonic - a refreshing a long drink, or just the K'Bucha and tonic. BCH Still the best on the Market - try making my own ( after doing a Lucie Course) but conditions in an old house fluctuate, and sometimes it works perfectly, others not. sadly recent repairs have (again) upset the SCOBYs so they need another snooze. Back to BCH in bulk. yum!
Sour Cherry my favourite
Good to have a mixed case to sample the different flavours. Sour Cherry is definitely my favourite!
Frequently asked product questions:
What will be the best-before date of my kombucha on arrival?

We guarantee 3-months shelf-life, as long as you keep the kombucha refrigerated! :) i.e. if you receive your kombucha on the 28th February you'll receive a bottle with a best-before date of eat least the 1st June.
How long after opening the bottle do I have to drink it all?

We recommend drinking your kombucha within 5-days of opening the bottle.
Do I need to store your kombucha in my fridge?

Yes. Please do strore your kombucha in the fridge; this ensures the live bacteria doesn't get up and party too much! It's also a question of safety; our kombucha is powerful stuff and has been known to shatter if left at room temperature for too long.
How tangy is your kombucha?

We ferment our kombucha naturally over a number of weeks, so the flavour is fairly tangy and sour - there's plenty of flavour and 'bite'. Ours is a traditional brew which is NOT pasteurised or pressurised.
How much kombucha should I drink per day?

We'd always say it depends on various factors including what your dietary goals are and the state of your immune system, but generally we'd recommend drinking a small cup per day.