Regular price
Sale price
£6.49
Unit price
per
Sale
Sorry, currently out of stock

25p from each Bath Culture House product sold on our website and at markets will be donated to

 

Bowel Cancer UK

 

via

 

Work for Good.

Kale Kimchi 350g
An aromatic, live, natural & raw kimchi, made with curly kale - delicious! This product is unpasteurised and packed in plastic-free packaging. Made with locally grown British curly kale. Slightly spicier than our classic kimchi.

✓ Raw & Unpasteurised
✓ No Added Sugar
✓ Handmade In Small Batches
✓ Plastic-Free Packaging
✓ Vegan & Gluten-Free

Ingredients: British Kale, Carrots, Onions, Dulse, Garlic, Ginger, Gochugaru Chilli Flakes (Korean Red Pepper) & Sea Salt.

This product was a 1-Star Great Taste award-winner in 2021 and a Gold Taste of the West winner in 2023.
Share
View full details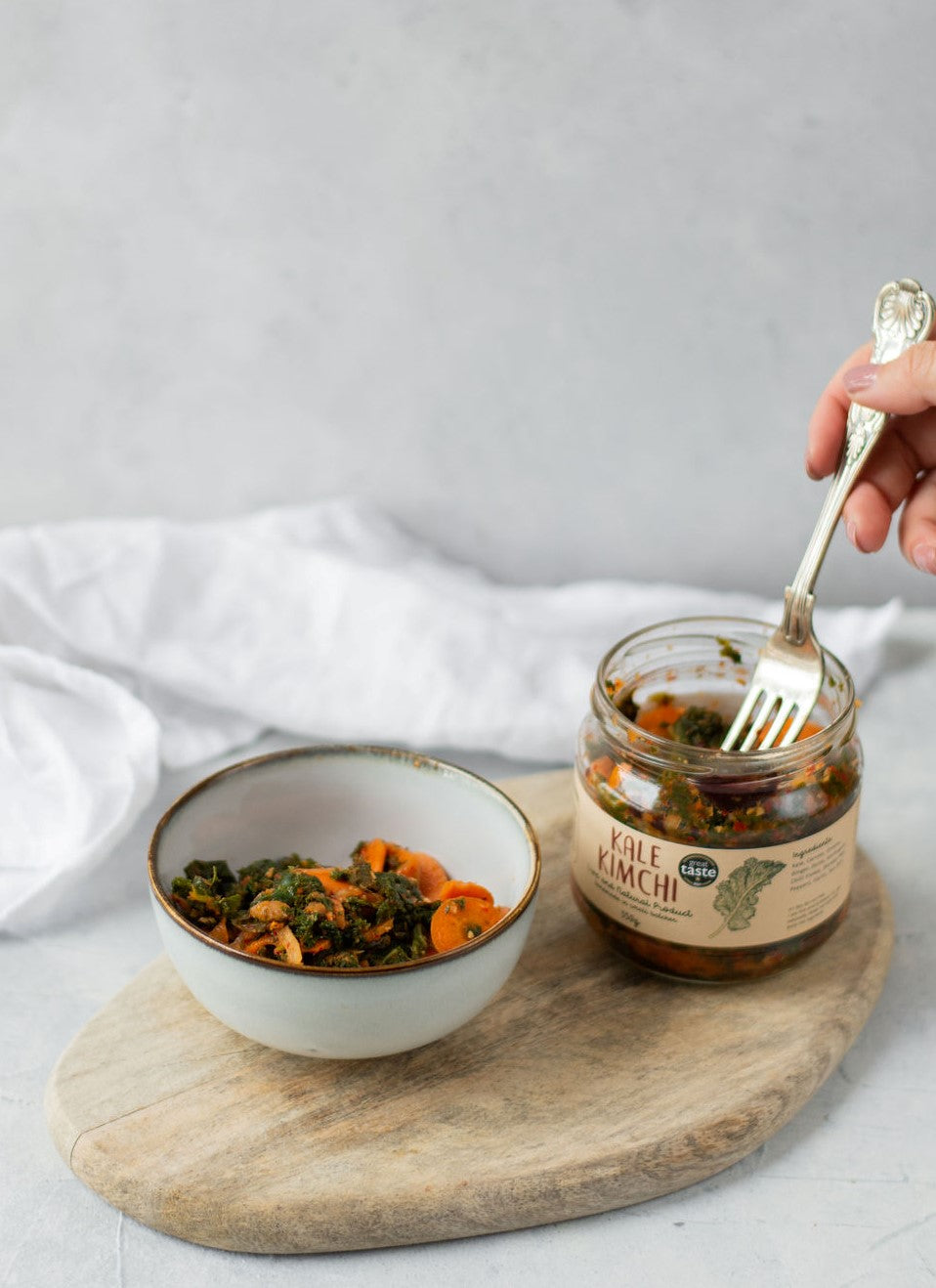 Quite simply refreshing!
I purchase this from the Market and loved it so much that I ordered another online. I'll be ordering again.
Great Product
I'm no expert on other Kimchi, but I did enjoy this one
Service/delivery was excellent
Really good quality products
I ordered a number of Kale and Kimchi products after recommendations and found them very beneficial.
Kale Kimichi
I ordered it for a change from the sauerkraut - it was very tasty delicately flavored to enhance the Kale texture. Excellent quality. Hoping they will do it in 700g soon!
Frequently asked product questions:
What will be the best-before date of my kimchi?

We guarantee 3-months shelf-life, as long as you keep the kimchi refrigerated! :) i.e. if today is the 28th February you'll receive a jar with a best-before date of eat least the 1st June.
How long after opening the jar do I have to eat the whole jar?

We recommend eating up your kimchi within 28-days of opening your jar. However if you pracitce good hygiene (not eating from the jar, always using clean utensils, keeping the kimchi refrigerated below 5 degrees, and keeping the lid on securely) you should be able to enjoy your kimchi for over a longer time-period than this.
Do I need to store your kimchi in my fridge?

Yes. We always recommend storing your kimchi in the fridge; this ensures the live bacteria doesn't get up and party too much!
How spicy is your kimchi?

Our classic kimchi is, what we would call 5/10, a reasonably mild kimchi. Our brussels sprout, kale and broccoli kimchi are slightly hotter. If you don't particularly like spice, we'd recommend you go for our sauerkraut instead!
How much kimchi should I eat per day?

We'd always say it depends on various factors including what your dietary goals are and the state of your immune system, but generally we'd recommend eating 2 tablespoons per day.
What would you suggest I eat kimchi with?

We love our kimchi with crackers, fried rice, noodles or on the side of light lunch plates - i.e. in a wrap or sandwich, or with soup and bread. If you eat eggs and dairy, we'd suggest you try our kimchi with cheese toasties, shakshukah or a fried eggs on toast - we get a lot of people tell us at markets about their brunch/breakfast joys!